www.Gondula.com
Who´s Gondula?
An art muse ...
You will ask yourself who is Gondula now? Gondula is my art muse. In autumn 2018 she gave me the order to paint cuddly toys, which I have been doing since then. "Gondula is power-hungry, moderately arrogant and, to top it all, a Donald Trump fan," was the headline of the local newspaper Hermann in May 2019 about this stuffed animal. Officially, of course, she describes herself as a philanthropist, so that no one gets behind her true intentions. However, I already had two gondulas. I lost the first one, which is why I couldn't go to work for a whole week. I guess she tried to get into the Federal Chancellery to get to power. One of her great goals is to found her own kingdom. Gondula loves to watch television for her life. Her hobbies include visiting deserted places and being filmed or photographed. She also likes to travel. In the Corona crisis, she traveled to Europe and the whole world by parcel, which was reported by many newspapers. In addition, she ran fictitiously as a candidate for chancellor of the party of non-voters in 2021 to provoke a discussion on this topic. Please send your fan mail for Gondula directly to my address.
Gondula visits singer Clara
Inhalte von Youtube werden aufgrund deiner aktuellen Cookie-Einstellungen nicht angezeigt. Klicke auf "Zustimmen & anzeigen", um den Cookie-Richtlinien von Youtube zuzustimmen und den Inhalt anzusehen. Mehr dazu erfährst du in der Youtube Datenschutzerklärung. Du kannst der Nutzung dieser Cookies jederzeit über deine eigenen Cookie-Einstellungen widersprechen.
Zustimmen & anzeigen
(Video only in German language)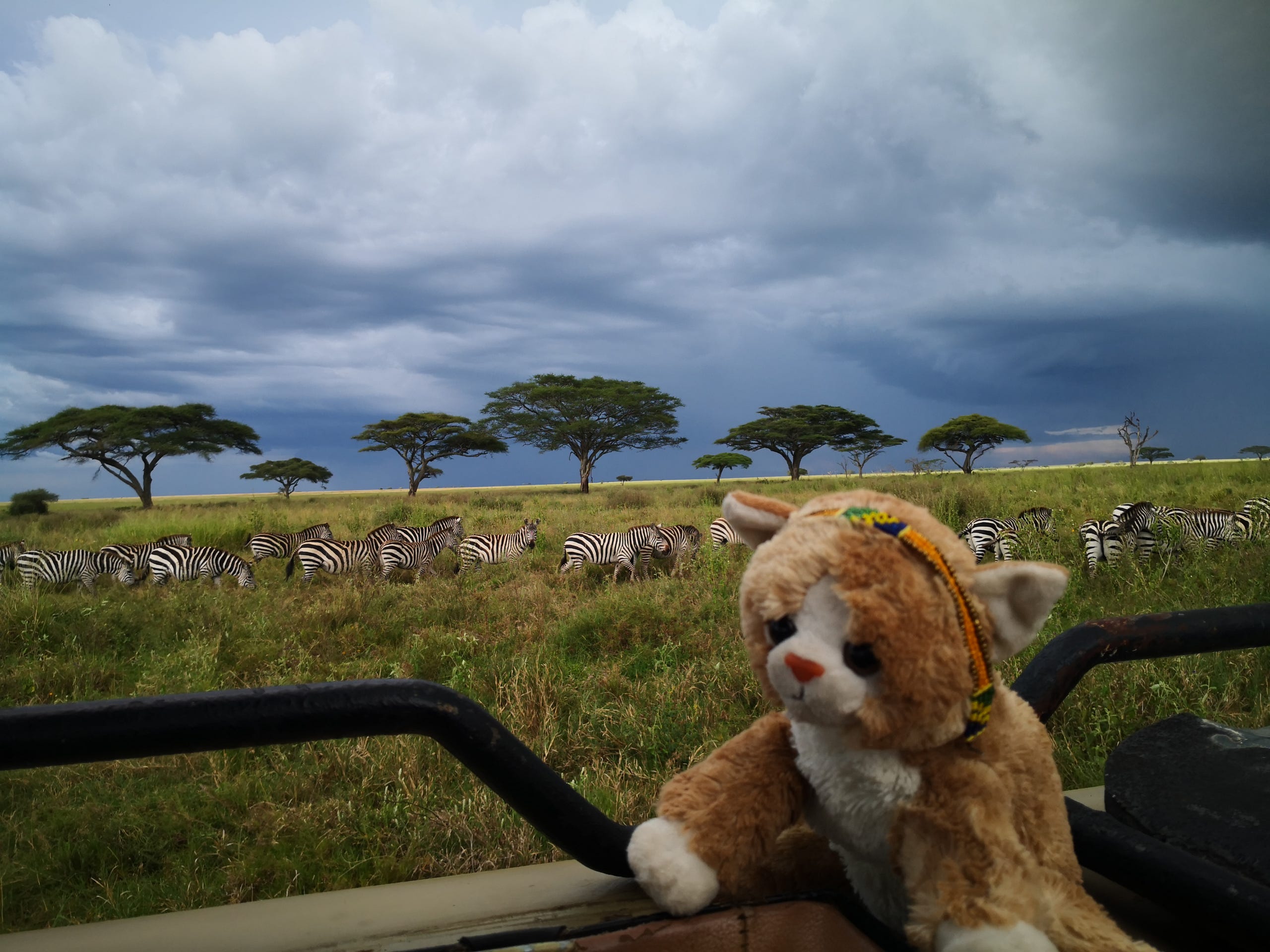 A plush cat on a trip around the world
Plush cat Gondula has been traveling Europe and the world since the outbreak of the Corona crisis. Per package. She visits artists and exciting people to tell about them and to immerse hers in other worlds. With this action she wanted to create bridges while borders remained closed. There were national reports about their travels. In the slideshow you will find photos of the individual stations.
Gondola´s first stop was Appignano in Italy, where she visited the artist Riccardo Chitarrari. Appignano is a small town in the Macerata region.
It then went on to the opera singer Waltraud Mucher Gregan on Mallorca in Spain. In the "Valley of Gold" Sollér she got to know the island and Waltraud's talent.
Gondola actually visited London in Great Britain in 2019. But great photos of museums and galleries were taken on this trip.
Gondula found real stars in Vettweiß near Cologne! She attended the Fussbroichs, which from 1979 had one of the very first documentary soaps. Son Frank watched her paint.
When you think of Islamabad in Pakistan, you often think of terror and poverty. Gondula witnessed great culture and a modern country.
It became royal in Kromlau in Saxony. Here she visited the flower queen Tonie Jahnke and learned a lot about the European nobility and visited the Rhododendronpark.
Artist Tzimulis Athanassios was her host in Trikala in Greece. Little Europe in the heart of Thessaly is home to ancient culture.
On a trip to herself she accompanied Sophie to Tanzania. You have been to Zanzibar and even on safari. Unfortunately Gondula was kidnapped, but was able to be freed. Tanzania overcame slavery. There is an infinite variety of species here.
In Ballenstedt in Saxony-Anhalt, Gondula met the artist Jimmy Cutaka from Halle, whom she supported in the implementation of the "Culture in the shop window" project.
In Hanover, the plush cat accompanied the Wünschewagen Niedersachsen as part of a charity project. She got to know the important work of the association, which fulfills one last great wish for terminally ill people.
She went on a road trip to Turkey with Kathrin and Mike in the Mika-Mobil-Van. Across the country they saw Pergamon, Ankara, Konya and and and ...
Gondula took another trip with me (Martin) to Prague in the Czech Republic. It wasn't just the Charles Bridge that did it to both of them. So they found many parallels to German history.
The plush kitten's last trip was to Mexico. Together with Diego she visited Cancun, Isla Mujeres and Mahahual.
You can find the travel reports and photos from Italy, Mallorca, London, Cologne, Pakistan and Kromlau in the book "Cuddle Art vol. 3". Buy it on Amazon (Link)!