Trikala via Thessaly (Greece)
www.Gondula.com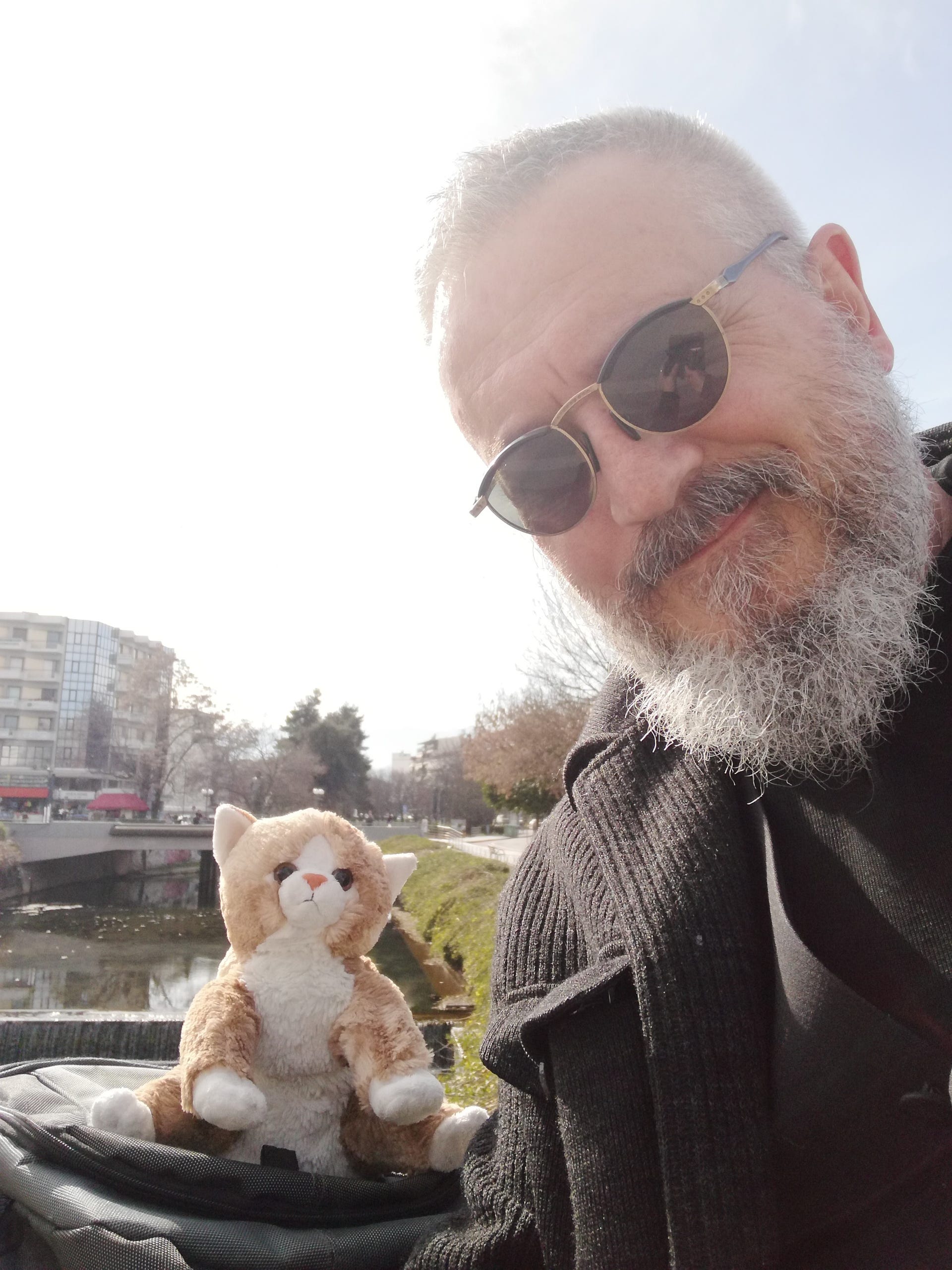 April 08, 2021

Dear friend,

Greece ... the breeding ground of democracy and the legend of Europe. I am very fortunate to come here as part of my trip to Europe and around the world and I would like to use the moment to tell you exciting stories from a country that has defied existential crises for more than ten years and yet remained true to its soul.

It is already my seventh travel destination. And the fifth country that I ended up in within a year. All over the world loving people are working on this project! For me this is a precious moment to pause and thank all of my plush godparents. Meow meow meow.

I spent the last few weeks in the city of Trikala with the local artist Tzimulis Athanassios. Trikala - that is a small Europe in the heart of Thessaly, city of Äskalup, the famous doctor from ancient times. The river Lithaios flows through the city, a tributary of the Pineios, which supplies the whole region with water and allows nature to flourish despite the high temperature. Pineios itself is a 217 km long main stream that connects the whole region of Thessaly. Please imagine these dimensions: You toss a coin into the water that could be in the Aegean by tomorrow. Another exciting aspect of this city is its ancient alleys and well-preserved monuments from history. It is not for nothing that Trikala has belonged to the Roman Empire since 146 BC, to the Byzantine Empire since 395, and to the Despotate of Epirus from 1204 - 1259. This is where the past and the future meet.

There was a lot to discover and Tzimulis took me on bike tours through his city to get an impression of it. So we even drove to the beach of Volos with its infinitely blue sea and drank Greek wine at sunset, which he makes himself ... just like in the well-known title by Udo Jürgens. The city lies on a large plain where the wind hardly blows. It owes the name Trikala to the nymph Trikki, daughter of Pinios. So it is not surprising that before and certainly after the Corona crisis, people celebrate intoxicating festivals in the villages around the city and that there are countless cultural events. Meow meow meow.

Culture. That leads me back to Tzimulis, whose creative process I was allowed to witness. In Germany, of all places, he studied art and lived for a long time in Munich, where the University of Fine Arts inspired him to paint freely. Starting with sketches in the nude room, he researched aesthetics.

He begins each of his works by applying paint with a spatula ... recognizes nature and landscapes in them, works out these fantasies. This creates wonderfully colorful paintings with a depth that also allows me to travel in spirit. But canvas and paper are not enough for him, he builds and paints clocks and publishes children's books with his illustrations. In his home country he is a real veteran and is best known for giving courses. Tzimulis wants to pass on his knowledge to his students and strengthen talents. He has a small shop right on the Lithaios River - a mixture of workshop, gallery and school. A cultural spot.

The painting began in caves and Tzimulis stands here like the captain in the storm and continues to paint, although times are ruining a lot at the moment. But he does not give up, just as humanity does not give up! I was touched by his passion and I realize that there are treasures everywhere we only see rubble. That brings me to the beginning of my report, a country that has long been plagued by crises.

Starting with the financial and economic crisis ten years ago, followed by the refugee crisis, which the small country has to cope with almost on its own. The refugee camps on the Greek islands are overflowing and the people there are living in catastrophic circumstances. There have been strong earthquakes here for some time and the Corona crisis makes it almost impossible for people to earn money to feed themselves and their families.

... and yet: The people here are strong and stick together. I wish for Greece that things will improve again and that it will overcome its crises! These days I am very proud of the people of this country.

Meow meow meow. My package will be back in Cottbus in a few days. I leave you sunny greetings from Tzimulis and myself. Stay healthy!


Greetings, Queen Gondula.


PS: Check out the travelogue or the videos that Tzimulis made.
Become part of Gondula's travel project!
Are you an artist and live abroad? Would you like to show your world to Gondula? Then you are an ideal host for Gondula! Contact me to be part of Gondula's travel project.